Today's Tasklet is for Gmail users, but getting an account is easy and free! Even if you use another email server, it would be worth it to become a Gmailer
simply for the use of Google Tasks!
Using Tasks in Gmail
To get started, just click the
Tasks
link under
Contacts
, on the left side of the screen.
To enter tasks, just click in the Tasks window and start typing just like you would in a word processor. Once
you've
typed in a task, press
Enter
to create another one, or use the + button at the bottom of your list.
Here are some of the options available to you in Tasks:
Create a task about a Gmail message using the keyboard shortcut Shift + T, or by choosing Add to Tasks from the More options menu in your Gmail conversation.

Switch betwee

n

existing lists

or create new

ones

using the List icon in the bottom right corner.
Create "subtasks" by using Tab to indent them, and Shift + Tab to move them back.
Move tasks by grabbing them to the left of the check mark and dragging them up and down.
Add new tasks to the middle of a list by clicking at the beginning or end of an existing task and pressing Enter.

Check off Tasks when you're done, and use Actions > Clear completed to hide them. Don't worry, you can still view them later!
Print your tasks by clicking Actions and selecting Print task list.
Store any information you want! Tasks is designed to help you keep track of things you need to do, but you can still use it for any listing actions you want, such as making a grocery list or outlining a paper. You can create as many lists as you need to organize your information.

___________________________________________________________________
How can this work for Bootcampers? SO EASY!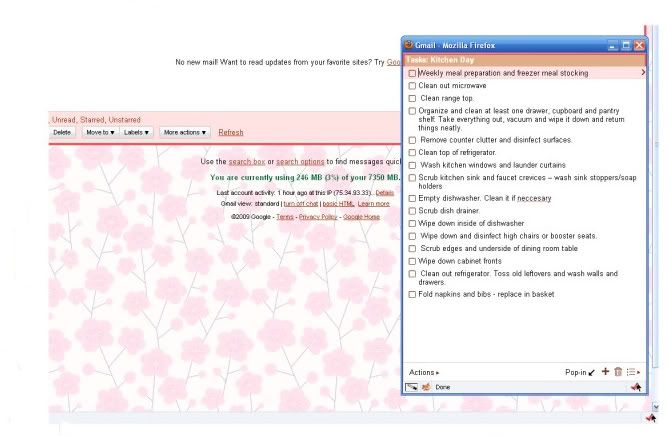 Because creating new tasklists is as simple as clicking a button, you can have one for each Daily Focus Block. Then just list that day's tasks in your list! As you go about your work, click on each task and it will be crossed off your list. Ahhhh....satisfaction.
Using Google Tasks is so easy, I have lists for everything: ongoing projects, homeschooling, homemaking...even a list of blog ideas! (Have some to share? Please do! I'll add it to my list!)
Like taking your lists with you? Printing off your list is simple.
Have a task with a deadline? Adding it to your calendar is just a click away.
The best part? My kids LOVE Google Tasks...I leave the Day's list on the screen and they rush to complete the tasks so they can be the one to click it through. (Listmaniacs in the making!!)