So you've got a basic garden*, and you're producing your own food. How liberating! You're eating fresh, healthy food and saving your family money. You're on your way to provident living**!
It's time to move on to the next big backyard gardening step: A compost bin.
We researched a lot of compost bin and pile designs and were overwhelmed by either the cost of ready-made crank bins or the amount of sheer physical work the piles involved.
Then my husband came across this instructional video for the Easiest Compost Bin Ever (capitalized ala Winnie-The-Pooh!).
Watch this and smile. Composting can be easy!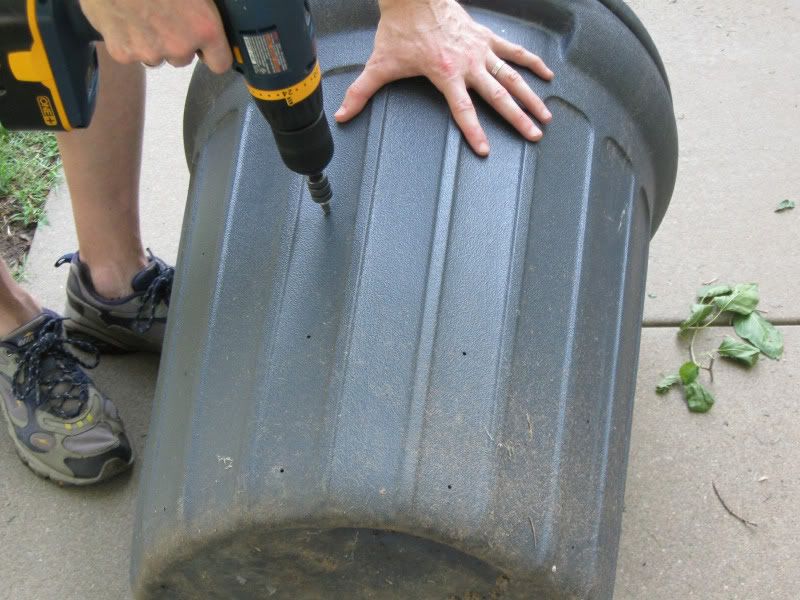 My husband made this bin's creation even easier - He watched the video and apparently said to himself, "Hammer and nails... that's
soooo
last millenium." A cordless drill got through that plastic quickly and with no busted thumbs!
One more note: How do you store the yucky compostables in your kitchen? All you need is a small plastic pail with locking lid -even a plastic ice cream bucket (with the lid) would work! Of course, kichen compost pails with fancy filters can be purchased, but keep your eyes open at garage sales - that's where I found one for $1 that sells online for $45! As always, assign the daily task of dumping from the small pail to the big bin to one of your cheerful, able-bodied children.
*New to gardening? Want to give it a try? I highly recommend
Momma's Guide to Growing Your Groceries by Kimberly Eddy
. In this ebook, she tackles the subject of kitchen gardening in a way that speaks to stay-at-home, money-saving moms, not master gardeners with hours of free-time and big bucks to spend. For those with smaller spaces, I also recommend
Square-Foot Gardening by Mel Bartholomew
. This method uses less space, less water, and less labor! Wahoo! (Check out more gardening blogs under the Inspiration tab to your right.)
**Provident living is a term coined by the Mormons, who believe that an essential part of spiritual life is preparing for unknown crises, local or global. While I do not espouse the beliefs of the Mormon church, I do believe that the key points of provident living (which include attempting whatever level of self-sufficiency in means you are comfortable with (yet avoiding pride and daily depending on God for your bread), becoming more independent from big government and more dependent on your church family, and living within your means) are wonderful goals for Christians, as well. Now I'll jump off my soapbox. :)
Now get to work and have fun in the garden!