First, a question: Why is it that adding the suffix "-let" to words makes them so very cute? Ah, but that's linguistic rhetoric, and keeps us from the bloglet at hand. (See, I did it again! *giggle*)
I've decided to dedicate Tuesdays to fun little objects or hints which may save you time and mental energy as you go about your homemaking duties.
Today's Tasklet: Google Calendar.
This won't be
as
helpful to those of you who are not Gmail users, but even if you are not, Google Calendar is a wonderfully simple, intuitive, interactive means of organizing your life.
Why will Google Calendar help you organize your life? Here are some great reasons, straight from the
horse's
Google's mouth. I've added my own commentary in pink (of course!)
7 reasons to use Google Calendar
Organizing your schedule shouldn't be a burden. With Google Calendar, it's easy to keep track of life's important events all in one place.
1. Share your schedule
Let your co-workers, family, and friends see your calendar, and view schedules that others have shared with you. When you know when everyone is free or busy, scheduling is a snap.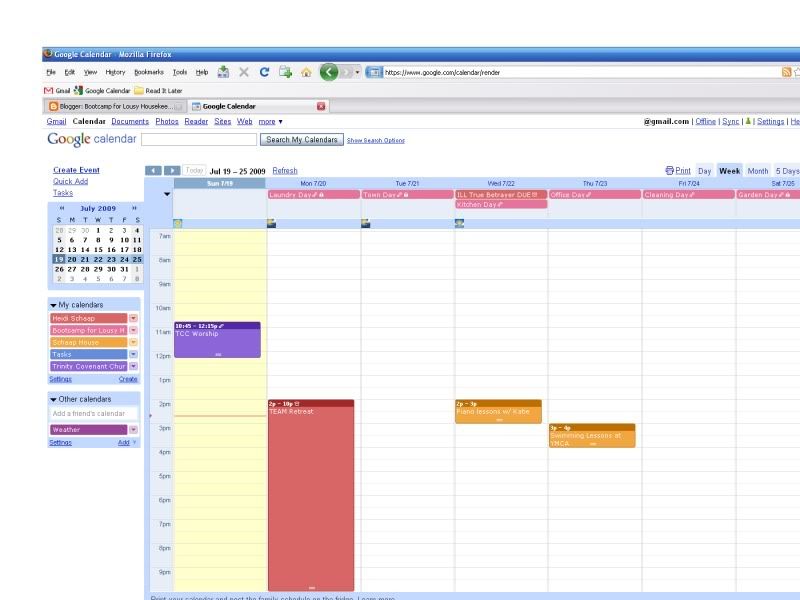 As you can see from my calendar above, each Google Calendar is actually a virtually limitless grouping of calendars, all linked together and visible in one place. I have a personal calendar, a church calendar, a household calendar, and of course, a Bootcamp calendar which simply lists my Daily Focus Blocks and keeps me on track. You can also download other people's calendars: Your husband, your children, your homeschool co-op, your best friend!You can also share your calendar between more than one Google account, if desired.
2. Get your calendar on the go
With two-way syncing to your mobile phone's built-in calendar or a
mobile version
of Google Calendar that's made for the small screen, you can access your calendar while you're away from your desk.
3. Never forget another event again
Customizable
reminders
help you stay on schedule. You can choose to be notified by email or get a text message sent right to your mobile phone.

This is the feature that makes Google Calendar my new favorite homemaking helper. I'm a fairly organized person, always quick to jot events and reminders on my calendar..... and then I'd forget to look at my calendar again for a week and miss the event. Or library due date. Sigh. Funny how I don't forget to check my email, huh? With this free program, I can easily tell my Calendar to email me 2 weeks, 2 days, or 2 hours before the event, so I never forget again. On the computer a lot? Google Calendar can also send you a pop-up reminder a few minutes or hours before the event, so you don't loose track of time while perusing this blog. ;)
4. Send invitations and track RSVPs
Invite other people
to events on your calendar. Guests can RSVP to your events by email or via Google Calendar.
Made a lunch date with your hubby and don't want him to forget? Invite him to the event and it will go onto

his

Google Calendar, including an e-mail or pop-up reminder. Digital nagging...what's next?
5. Sync with your desktop applications
6. Work offline
Know where you're supposed to be even when you don't have internet access. With
offline access
, you can view a read-only version of your calendar no matter where you are.
If you're a tried-and-true paper gal, or perhaps you like to stay up-to-date through both media, Google Calendar is printable! Just fill in your calendar, print it off and carry it with you.
7. All this is free?
Yep.

Sweet.
What about scheduling? If you are a block scheduler, ala Managers of Their Homes, Google Calendar can be easily used to block out periods of the day. Simply create a calendar for "Family Schedule", pick a color, fill in your events, and enter "M-F" on the "Repeats" pull-down tab.
If you don't want your calendar cluttered with those repeating events, just click on the "Family Schedule" button on the left. They'll disappear from view for printing or scheduling events at a glance. Click again, and you've got an hourly guide to homemaking.

This works great with Bootcamp as well, of course. Enter each Daily Focus Block as an all-day event, repeat on that day for every week, and you'll never forget it's Kitchen Day again (as if you could!)

Next Tuesday, Google Tasks: For the list-maker in us all.