Here's another Town Day Tuesday Tasklet!
I honestly believe that every time I have a baby, I lose a certain portion of my braincells. I have long joked that with every nursing session, my babies seem to slurp out my intellect along with my milk. They're very chubby babies, and maybe THIS explains why I seem to be functioning in a fog half the time!
But no excuses - the more children we have, the more dedicated I have to be to staying organized. Unfortunately, it always seems that I come up with a great organizational strategy in response to forgetfulness, instead of taking the proactive approach.
Take, for instance, a few weeks ago, when I went once-a-month shopping. My husband was graciously willing to watch some of the children at his office (on a military base) so I could shop at the commissary with only the baby and the oldest (my cheerful second-cart pusher!) When you're buying food for every meal for a month for a family of seven, lots of littles can be distracting!
We piled in the van, drove 45-minutes to the installation, and met my husband, who had already signed out for the day so he could take them to play at a nearby park. What a sweetie. It was at this point that I realized I had forgotten my coupon box...which also carries my calculator, pen, and shopping list. Whoops. We had to turn right around and go home. Needless to say, the event made for a grumpy daddy and a very embarrassed mommy.
The next day, of course, I had a brilliant flash of organization, which is really quite simple.
On the top of a 3 x 5 card, write a common destination, such as "Grocery store". Then list everything you need to take with you when you go. (For me, that's a diaper bag (With diapers, wipes,wet bag, wallet, keys, cellphone, sunglasses, bottle of water, pacifier and baby sling, sippy cup for toddler), coupon box (with coupons, shopping list, scissors, calculator and pen), re-useable grocery bags, and cash for the tip.) Also listed are these reminders: Dog in crate, doors locked, shoes on.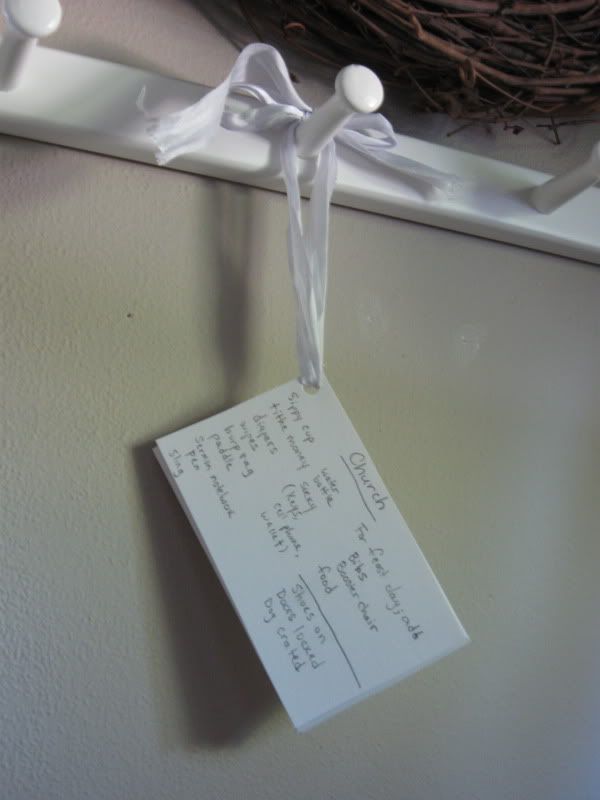 (Yes, shoes on. I'm a barefoot girl (and my littles are barefoot children) and I don't care to relive those experiences of showing up at the grocery store and realizing I'm barefoot, they're barefoot, we're all barefoot. Sigh.)
As I'm collecting these cards, I punch the corner of each one, reinforce the hole and slide them through a ring. It hangs on a hook next to the door. When we need to go out, I read the list on the appropriate card and everyone makes sure we have what we need, before we step out the door.
Someday I'll probably laminate them, but for now we seem to still be adding items to the list.
I hope this easy trick works for you foggy mommies out there!
Now get to work!