Talking Toilets... It's disgusting, but sometimes we just have to do it. Gulp. So, you know that gross layer of built-up grime that forms around the toilet seat where the lid screws onto the rim? Even daily cleaning can't seem to do it justice if you have boys in the house. (Yes, my sons, I'm talking about you!)
Here's a quick spring cleaning tip: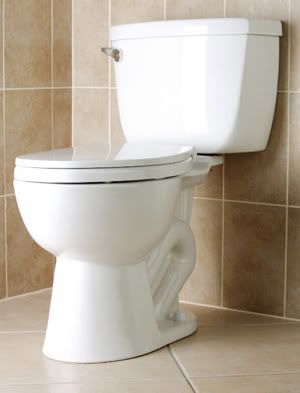 Courtesy of Ecohomemagazine.com
Unscrew your toilet lid and place the entire thing, including plastic screws and washers, into the bathtub. Spray it with Scrubbing Bubbles tub cleaner. Wait five minutes, and rinse with hot water. Dry with an old towel, and VOILA! It will absolutely look like new, and you did NOT have to touch it for more than 10 seconds, tops. (Just don't forget to wipe down the rim well before you reattach it.)
I tried this last week and it worked so quickly, and my toilets looked so shiny, that I felt the strong urge to add "Remove toilet seat and spray down" to my Cleaning Day task list. Well....we'll see. :) But when you need to DEEP clean the toilet, it just doesn't get easier and gross-less than this: Remove, Spray, Rinse!
And here's a bonus fun tip for those who have little bottoms in the house: We have simply NEVER found a better potty-training product that
Dr. Merry's Potty Pal
. The training seat is built INTO the adult seat, so there is no nasty potty chair to dump, no seat to remove and clean (every time you have to go...ugh!) It's always there and can stay on your toilet as long as you have little ones. It's even perfect for grandma's house! Now, if only potty training itself were so simple...
What are your tips and tricks for making the bathroom shine? Leave a comment and let me know!
Now put on a pair of gloves and GET TO WORK!