Autumn greetings, Bootcampers!
If it seems a little quiet in here lately, I apologize. Getting all settled in to our new farm has melted in to preparing for our first full winter in the woods, and my blog has often been set aside for more pressing tasks inside and out. Plus, holiday preparations are in full swing. (Read more about that
here
.) But I want to make it up to you by giving away a free digital copy of
Bootcamp for Lousy Housekeepers
to THREE of my blogging readers!
Here's how it works, in three easy steps:
1. Write about any homekeeping issue on your blog. You could share a time-saving tip, an area you struggle with, or just dish on how you wash your dishes! You also need to share ONE IDEA for a blog topic you'd love to see me write about, Bootcamp-style.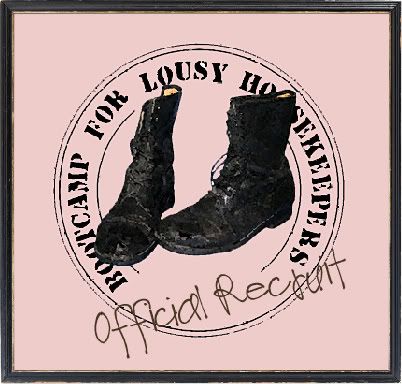 2. Within your blog post, share a
direct link back this giveaway
.
3. Leave a comment on this post with a direct link to your blog post.
That's it! I will choose three winners out of the qualified bloggers on Oct. 30, 2010, and announce those winners through this blog. I'll also do my best to write many bloglets covering the topics the entrants suggest over the next months.
So get to writing, linking, and telling your readers all about it!