I will admit to you, Bootcampers, that even though it is officially fall, and well into October, it is still a smidge too early for my taste to be seeing Halloween decorations up in the yards in our village. I'm a person that really likes to take one season and holiday at a time - and at the right time! So imagine my shock last weekend when I walked into the Christmas section at our local Ikea store. Christmas? Already?
And then it hit me -- It's OCTOBER! As much as the thought of Christmas planning now may shock me, it's already time to begin!
A Bootcamper recently asked me if I could print up a schedule of "what-and-when" items to

accomplish in preparation for the holiday season, but the VERY best advice I could give her was to point her to an e-book that's been in print for a long time! I don't think I could add anything to it (and that's saying a lot, because I'm always feeling the need to "add"!)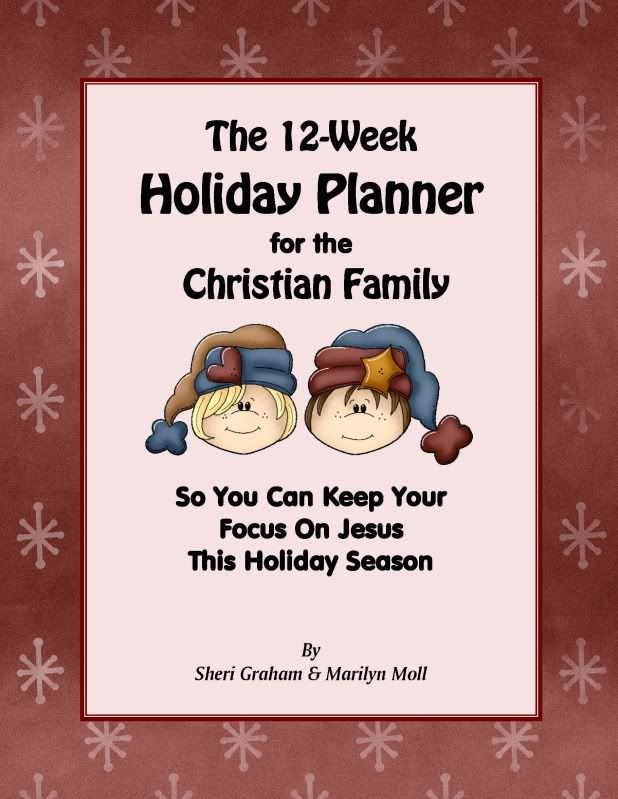 I shared in my book that I have used Sheri Graham's The 12-Week Holiday Planner for the Christian Family for a while now, and this year, she released a wonderful new 2nd-edition of the e-book, co-authored by Urban Homemaker's Marilyn Moll. The book now even has its own website! On the site, Sheri asks, "
Do your holidays seem to always become stressful and full of "wait to the last minute" to do items? If so, then this eBook is for you! Begin October 1st planning and organizing for the holidays.

"
It's a few days past October 1st, but it's NOT TOO LATE TO START planning for the holidays using this wonderful resource. It is chock full of wisdom and printable forms to help you plan your holiday shopping, meals, and decorations all while keeping your heart and mind on the heart of the holiday season. It's even got yummy recipes for you and coloring pages for your littles!
This one, inexpensive e-book will guide you from your Thanksgiving feast through your New Year's bash.
And if I do say so myself (and I do!), it's a wonderful companion resource to Bootcamp for Lousy Housekeepers - which of course will help you get your home sparkling clean for those holiday events and running smoothly every day - not just holidays!
You may think you're an organized holiday-planner, but you simply don't know organized until you use this holiday planner! It's been a wonderful blessing to me and my family, and I hope it will be a blessing to yours.
So go download a copy of the planner and get a head start on your holidays today!
Now get to work!